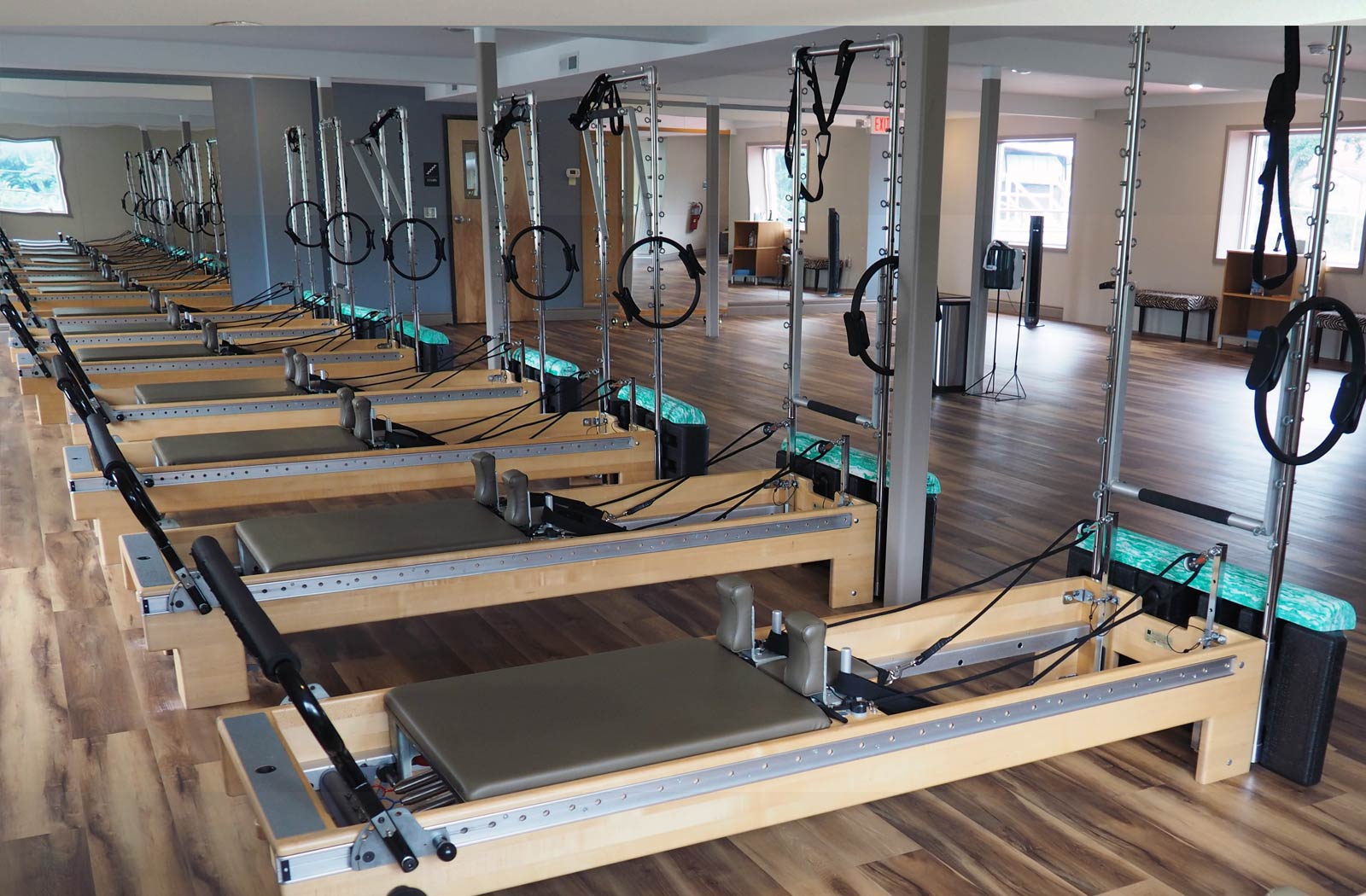 Cutting edge Pilates studio
Three floors and 9,000 square feet dedicated to Pilates training and education.
WORLD CLASS FACILITY
We are not just a Pilates studio, we are a school where your body will learn good posture and healthy movement patterns.
PRIVATE SESSIONS
Our entire first floor is dedicated to Pilates private sessions and physical therapy.
GROUP PILATES
Our facility has enough space for all types of group exercise classes. On our second floor we hold group Pilates classes (reformer, chair, barrel, and tower), as well as YUR Back classes.
OTHER GROUP CLASSES
Pilates mat classes, core align classes, TRX, trampoline, and Barre work are done on the third floor.
DIVERSIFIED CLASS OFFERINGS
LIVE CLASSES
Join us in our studio for live classes every day.
VIRTUAL CLASSES
For those that can't join in-person, we offer virtual live classes.

ON-DEMAND LIBRARY
Our curriculum of classes is available on-demand.
EDUCATION
For Pilates teachers we offer continuing education classes and Pilates Certification training.
PRICING
Private Session
$55 – $125
This 50 minute session is a private one on one or semi-private (2-3 participant) experience in a fully equipped Pilates studio. Experience the reformer, Cadillac, chair, barrels, and other small apparatus with exercises catered to your specific postural needs and goals. Pricing varies with the level of the teacher that you need. Choose from our physical therapist to our nationally certified Pilates instructor. We offer an initial session for just $55 and packages for discounted pricing. These sessions are also available virtually.
Equipment Based Class
$33
This 50 minute session includes just 5 to 8 participants and involves the use of the reformer, tower, chair, barrel, or core align depending on the group. A selection of classes are offered daily ranging from specialized YUR Back classes to creative reformer and tower classes. Class times are published on the schedule and you can sign up online or by calling the studio. Packages are available for discounted pricing. Many of these classes have virtual options.
Mat Based Class
$16.50
This 50 minute class includes up to 10 participants and is available both in studio and virtually. Mat based classes include pilates mat, YUR BACK mat, Bounce, TRX, Melt, and Pilates Sculpting. Class times are published on the schedule and you can sign up online or by calling the studio. Packages are available for discounted pricing.
Physical Therapy
$125
This 50 minute session is with Christine Romani-Ruby or Susan Tsou, our direct access physical therapists specializing in movement disorders and using the Pilates based repertoire, deep laser therapy and the graston technique. A doctor's prescription is not required for your visit. We are happy to talk with you on the phone to decide if our setting would be the best choice for you.
Join a class from your own home. Our Pilates classes are streamed directly from our studio to your living room.
TOP NOTCH INSTRUCTORS
Certified instructors in Pilates, TRX, Physical Therapy, and more. Our instructors provide hands-on training and expert instruction.
Rachel Reynolds, BS, NCPT
Rebecca Becarri, PTA, NCPT
Susan Tsou, PT, MPT, NCPT
Leslie Georgiadis BS, NCPT, E-YRT, CYT
Lindsey Hensler Chropka PTA, NCPT
Christine Romani-Ruby, PT, D.Ed, MPT, ATC, NCPT
HOME WORKOUTS FOR YOU
Workout at home, on your own schedule.
Stay connected and motivated with the TrueCoach app.
GET STARTED TODAY
Three things to do before visiting our studio for the first time.
STEP 1
HEALTH HISTORY
Review and complete our new student health form.
STEP 2
STUDIO WAIVER
Review and sign our Pilates studio waiver.
STEP 3
STUDIO FAQs
Read our most commonly asked questions.
FAQs
Below are answers to some of our most common questions. If you have a question that is not answered here please reach out to us directly.
What should I wear?
Fitted clothes are best. This helps us to evaluate your posture. Avoid buttons or zippers. Yoga pants or fitted long shorts are best. Socks are required in our studio and grippy socks are best.

How many times per week should I do Pilates?
Two times per week is ideal, but Pilates is gentle enough to do every day. Even if you attend just once per week, you will see results.

Will Pilates help me lose weight?
Pilates exercise increases strength which will increase your muscle mass. Having more muscle, increases your metabolism which in combination with a healthy diet will help you to lose body fat. The main way that Pilates changes your appearance is by improving your posture. This happens very quickly and standing taller will make you appear slimmer.

Will Pilates help with back pain?
Pilates based exercises can be very beneficial for people with back pain but it is important to have a Pilates teacher that is trained to work with your condition. PHI Pilates is the founding studio of the YUR BACK program created by Dr. Christine Romani-Ruby and our teachers are trained to work with clients with spine conditions. The YUR BACK program is designed specifically for clients with back conditions with a goal of creating a work out that will not increase back discomfort, but will strengthen the core and increase mobility of the limbs.

Are the instructors at Phi Pilates certified?
All of the instructors at PHI Pilates Studio are trained by PHI Pilates and certified through the Pilates National Certification Program (NPCP). In addition many of the teachers hold additional fitness, rehabilitation and wellness certifications, degrees and licenses in physical therapy, athletic training, personal training, and exercise science.