DISCOVER DEEP TISSUE LASER THERAPY
THE SCIENCE OF LASER THERAPY
Laser therapy is a medical treatment that uses focused light to stimulate a process called photobiomodulation (PBM). During PBM, photons enter the tissue and trigger a biological cascade of events that leads to an increase in cellular metabolism, which can decrease pain and inflammation and accelerate the healing process.
REASONS YOU'LL LOVE LASER THERAPY
IT WORKS
When you are suffering from a painful injury or condition, deep tissue laser therapy can provide powerful pain relief, promote tissue repair, and reduce swelling– even when other therapies have failed.
IT'S FAST
Deep tissue laser therapy treatments are very fast – typically lasting between 4-7 minutes, and the results are often fast too.
IT LASTS
After each treatment, patients can expect notable pain relief, with the effects lasting longer after each treatment.
IT'S SAFE
Deep tissue laser therapy can be used on most patients with minimal contraindications.
IT'S PROVEN
Researchers have concluded that laser therapy is effective for reducing pain, increasing range of motion and improving overall quality of life for patients suffering from many common and difficult-to-treat conditions.
LASER THERAPY TREATMENTS
ACUTE CONDITIONS
Therapy lasers for acute conditions is particularly effective when it is administered as soon as possible following injury (assuming there is no active hemorrhaging). Bringing pain under control quickly helps the healing process and usually helps promote better outcomes.
CHRONIC CONDITIONS
With chronic conditions, research has shown that therapy lasers can be used to help combat persistent pain and promote circulation to damaged tissues. It can be a powerful, non-pharmaceutical solution to reduce pain without the side effects of medication.
POST-ACTIVITY RECOVERY
LightForce Therapy Lasers can be found on the sidelines of many pro, college, and Olympic sports teams across the United States and many parts of Europe and Asia. Laser therapy has been shown to be effective at improving post-activity recovery times and reducing delayed onset muscle soreness (DOMS).
GRASTON TECHNIQUE
The Graston Technique® is a form of instrument assisted soft tissue mobilization that allows for precise detection and treatment of soft tissue restrictions and dysfunctions, which will increase range of motion and decrease pain and inflammation.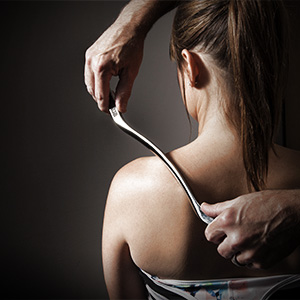 LEARN MORE TODAY
To learn more about PHI Pilate's physical therapy services, including deep tissue laser therapy, call our studio at 412-531-1807 or contact us using the form on our Contact Page.
FAQs
What does deep tissue laser therapy feel like?
Laser therapy treatments must be administered directly to skin, as clothing or topical dressings interfere with delivering light to tissues beneath the skin (See images below). Patients will feel a soothing warmth as the therapy is administered. Many patients receiving LightForce Therapy Laser treatments report enjoying the experience, especially when the massage ball treatment head is used to deliver what is often referred to as a "laser massage." Patients receiving treatments with higher-power lasers also frequently report a rapid decrease in pain. For someone suffering from chronic pain, this effect can be particularly pronounced.

How long does deep tissue laser therapy take?
With LightForce lasers, treatments are quick, usually 4-7 minutes, depending on the size, depth, and chronicity of the condition being treated. High-power lasers are able to deliver a lot of energy in a small amount of time, allowing therapeutic dosages to be achieved quickly.

What conditions can be treated with the Graston Technique?
GT-trained clinicians use GT instruments to effectively and efficiently address soft tissue lesions and fascial restrictions while treating acute and chronic conditions, including:
Achilles Tendinitis/osis (ankle pain)
Carpal Tunnel Syndrome (wrist pain)
Cervicothoracic Sprain/Strain (neck pain)
Fibromyalgia
Lateral Epicondylitis/osis (tennis elbow)
Lumbosacral Sprain/Strain (back pain)
Medial Epicondylitis/osis (golfer's elbow)
Myofascial Pain Syndromes
Patellofemoral Disorders (knee pain)
Plantar Fasciitis/osis (foot pain)
Post surgeries such as joint replacements, RTC repairs (once post-surgical protocol allows for soft tissue mobilization/manual therapy)
Rotator Cuff Tendinitis/osis (shoulder pain)
Scar Tissue/post-surgical scars (once completely closed)
Patients demonstrating central and/or peripheral sensitization (only used in light stroking/brushing mode to desensitize)
Shin Splints
Trigger Finger
Women's Health (post-mastectomy and Caesarean scarring)
Graston Technique® can be used to treat any movement system dysfunction that has been determined to have a soft tissue component.

Will the Graston Technique leave bruises on my skin?
Graston Technique® Clinicians are trained specifically NOT to cause pain and bruising. All of our skilled practitioners are trained in the Graston Technique and use the Graston instruments and therefore are able to determine the appropriate dosage in order to create the optimal therapeutic load.

Do you bill insurance for Physical Therapy?
We are a cash based physical therapy and wellness clinic which means that we do not directly bill insurance. We offer a lesser price for our treatment than traditional physical therapy because we do not have to hire billing staff or use prices set by government agencies. Often, you can see us directly for the cost of your insurance co-pay. We take pride in one on one private treatment specializing in movement re-education using Pilates and other specialized equipment. In our sessions you work directly with your physical therapist for your care, never with an aide.

Can I use my insurance to pay for my Pilates sessions?
Pilates is wellness/fitness and this is not generally covered by insurance. We do not bill insurance for our services, however some medical savings accounts do cover our services.